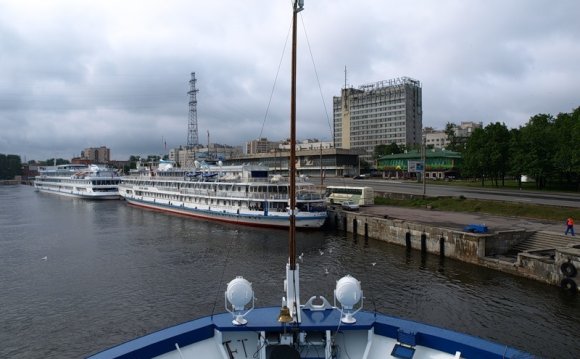 River Station and Hotels (February 2012)
- A complex of buildings and structures, which existed in St. Petersburg until 2012, operated by OAO ' s " Passenger Port " , to service its tourist fleet and other shipments.
The river station was located at: Prospect of the Obuchov Defense, 195, on the Nev coast, above the Vololar Bridge.
The structure of the River Station, which was constructed between 1962 and 1974 on a project of architects B. V. Pova, I. N. Kuskov, E. D. Rosenfeld, T. F. Tarikin and engineer B. F. Semin, includes the docks, the passenger terminal and the sixteenth Station Hotel, the River. After the construction of the River Station, it became Leningrad Passport.
Since 22 December 1999, the River Station complex has been operated by OAO " Passenger Port " , a subsidiary of OAO " Severo-West Ferry " .
Later, the building was purchased from the port for the construction of a 24-story residential building of 970 apartments. In 2009, the Peterburg Architects Union opposed the demolition of the hotel. Its members suggested that the building complex be given the status of an architecture monument. But that idea was not successful.
The tourist fleet and the various cruises that are shipped off the River Station are operated by the cruise companies Road, Infoflot, Latti, Rous Crises, Gama, Mosturflot and others. [grunting]
Share this Post