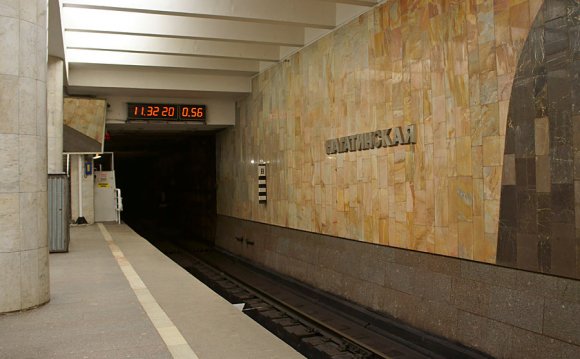 Material from the Encyclopedia of our transport
Nagatina - Intermediate Serpukovsco-Timirazev line of Moscow Metropolitan.
Opened on 8 November 1983 as part of the Serpukhovskaya-South site. PK 101+59.
Architects
L. N. Pavlov, L. Y. Gonchar, A. P. Semenov, with the participation of I. G. Petukova, N. I. Schumakov.
Design engineers
Uh. Blackyakov, E. Kobzev.
Design
A model, upgraded project of prefabricated unified iron-bedton structures, the so-called " new 40-bed " . Opening height 4 m in side flights, in central room 4, 3 m. Distance between axles of tracks 12, 9 m, width of platform 10 m, distance between rows of columns 5, 9 m. Column 6 m, width of column 600 mm. There are 26 pairs of columns at the station.
Project name
Lower Kotla.
Change projects
Lower Kotla (1991, 1992).
Out into town
Through the northern lobby on the stairs on the Warsaw Highway and the International Post Office.
To stop points on ground transport.
Preventive development
Station without satellite development.
Art
The road walls are laid by the marble of a rich palitre with a predominant red and black colour, which has featured penny in Florentine Mosaic technology on the theme " The ancient history of Moscow " (A. Jarenova, V. K. Vasiltsov). The symposiums are devoted to the history of the construction of temples, the wooden, and then the white capital, the beginning of the construction of Kremlin. Unusual for Metropolitan stations Round white columns are assembled from separate segments of the softest and light-producing mosquito koelga.
Share this Post