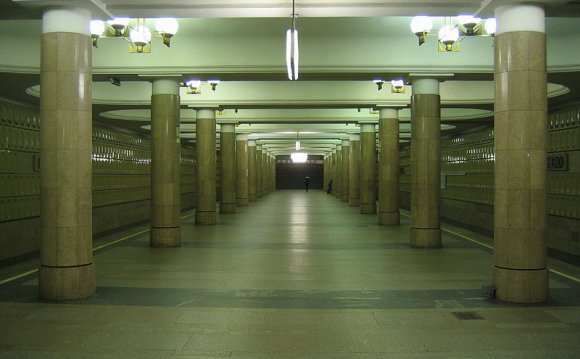 Material from the Encyclopedia of our transport
"Spanish" - Intermediate station of the Kaluzco-Rij line of the Moscow Metropolitan Line.
Opened on 17 January 1990 as part of the Blue Stan site, Novoyasenevsky. Positioned at SC 208+07.
Architects
N. I. Schumakov, G. S. Mun, N. V. Shuragin, with the participation of V. S. Volovic.
Design engineers
T. A. Jarov, N. Korneywa.
Design
A model, upgraded project of prefabricated unified iron-bedton structures, the so-called " new 40-bed " . Unlike the model design, the closure is performed from the large monolithic features, each covers all three passages from the wall to the wall.
Opening height 4 m. Distance between axles of tracks 12, 9 m, width of platform 10 m, distance between rows of columns 5, 9 m. Column 6 m, width of column 600 mm. Total, 26 pair of columns
Title
It's called the same area.
Out into town
Underground crossings to the Novoysen Prospect, the streets of Taroska and Oclamorsk.
To stop points on ground transport.
Preventive development
Station without satellite development.
Art
Cylindrical columns are embedded by a sero-green marble. The road walls are marked with yellow green metal-male decorative panels. The floor is gray.
Share this Post